The New Zealand Saloon Car Championship was first staged in 1960. It was won by Harold Heasley, driving a Humber 80.

Motor Racing in New Zealand during the late 1950s mirrored that of other parts of the world; single seater and sports car racing was considered the only pure form of the sport. However, despite its beginnings as little more than a novelty class, the fact spectators could relate to the cars meant saloon car racing, or touring car racing as it was also commonly referred to, was fast gaining popularity, and very quickly, national championships were being established all over the world for these unlikely race cars.

Although the cars competing in the early years of the New Zealand Saloon Car Championship were little more than mildly modified road cars, the category actually had very few rules, unlike championships being contested in Australia, Great Britain, and other countries at the time. Initially, Jaguar MkI and MkII saloons were the cars to beat, before the Lotus Cortina arrived on the scene. But very quickly, teams began to realise that the absence of regulations meant they could mix and match powerful engines with small, lightweight cars.

The 1966 championship was won by Dave Simpson, driving a Ford Anglia fitted with a Lotus twin-cam engine. His nearest rival was Paul Fahey, also driving a Lotus Anglia. Both machines featured heavily modified bodywork, including radically altered noses, as well as fabricated fast-back additions to the rear roofline, all to improve aerodynamics. Other drivers, such as Rod Coppins, opted for V8 power, fitting a small block Chevy into a MkII Zephyr. These cars were commonly referred to as Allcomers, which essentially translated to 'anything goes'.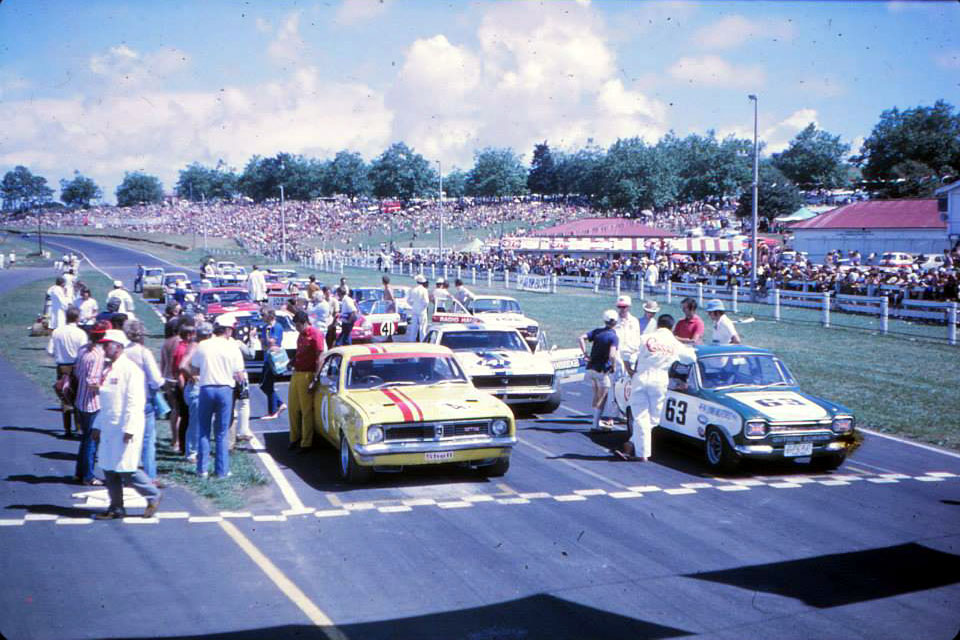 For the 1967 season, the Allcomer cars got even wilder, and even faster. However, Motorsport New Zealand had already begun to recognise that, although wild and popular, the Allcomers were quickly drifting away from that one key factor that set them apart from single seaters and sports cars; the spectators could relate to them as the cars they themselves drove on the road. And as such, they took action.
The 1966 season saw two separate championships take place alongside one-another. With the Allcomers being the headline act, MSNZ introduced a second championship, for FIA Group 2 touring cars. Group 2 regulations were already in wide-spread use throughout the world, and used for the British Saloon Car Championship, European Touring Car Championship, numerous European national championships, and were also used as the basis for the Improved Production regulations used in the Australian Touring Car Championship. Furthermore, the Sports Car Club of America established a new sedan racing championship in 1966 which it called the Trans-American Sedan Championship, or Trans-Am, for short. The SCCA used FIA Group 2 regulations for the Trans-Am.
The New Zealand Group 2 championship attracted an interesting and varied field of cars, including the popular Mini Coopers, Lotus Cortinas, and Ford Anglias. But it also attracted New Zealands very first circuit racing Mustang, imported by Ivan Segedin. Segedin was often the fastest car in the Group 2 championship, but reliability problems kept him from taking the overall title, which went to Jim Mullins, followed by Brian Innes, both of whom were driving Mini Coopers.
The wild Allcomers retained the top billing for the 1967 season, but the Group 2 championship continued to show its strength, attracting big grids and close racing. Barry Phillips won the championship in his Lotus Cortina, and once again the series attracted some interesting entries, including Carlos Neate in his Nissan Skyline GT.
Following the 1967 season, the New Zealand Saloon Car Championship took on a completely new flavour. MSNZ had long been looking to rid the series of the Allcomers, citing escalating costs and speeds. But they were also concerned the cars bore little if any resemblance to the vehicles race goers could purchase from their local dealerships. They briefly considered promoting Group 2 as the sole championship formula, but instead decided on FIA Group 5.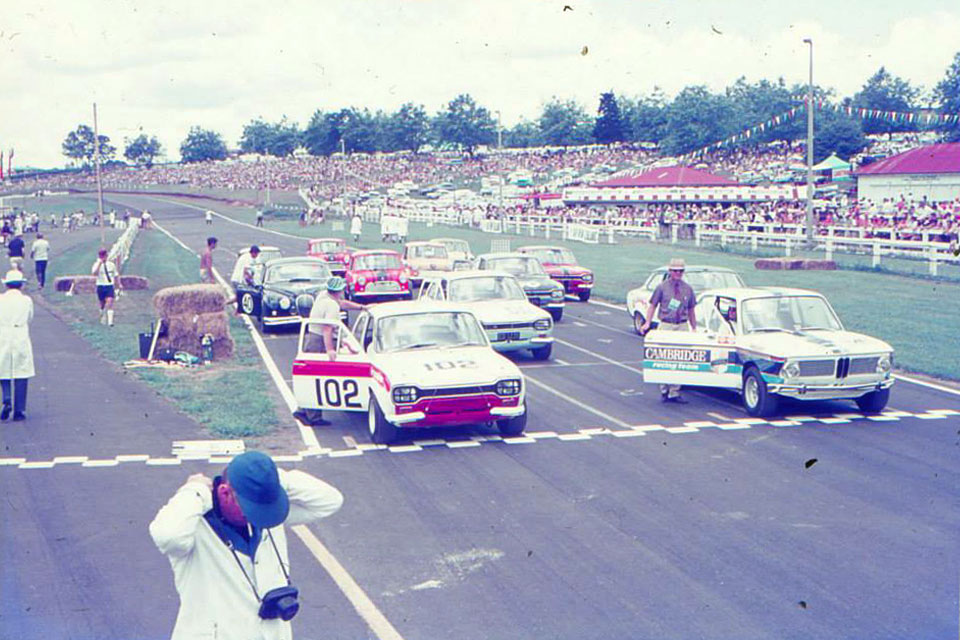 By 1967, Group 5 regulations had taken over from Group 2 in the British Saloon Car Championship. Group 5 were something of a middle-ground between the outgoing Allcomers, and Group 2. The cars themselves were production based, but as they were in Group 2, they had to retain the factory engine and driveline, but greater freedom was allowed in areas such as engine size, brakes, and other areas.
For the 1968 championship, there were four classes, based on engine size:
0 - 1,000cc
1,001 - 1300cc
1,301 - 1,600cc
1,601 and Over
The new championship formula enjoyed strong support, with Paul Fahey, Red Dawson, Rod Coppins, and Frank Bryan all entering Ford Mustangs, while reigning champion Robbie Francevic imported a Ford Fairlane, powered by a big block 427 cu.in motor. The smaller classes were also strongly supported, with hoards of Mini Coopers, Anglias, and Lotus Cortinas.
Over the next few years, the engine size regulations were tweaked somewhat, and new entries continued to arrive. In the big capacity field, the Fords were joined by various Camaros, Ford Falcons, and Holden Monaros, while in the smaller ranks, the hugely successful Ford Escort RS1600 model became the high-benchmark. Drivers such as Fahey, Jim Richards, Jack Nazer and Don Halliday all enjoyed great success with Fords pocket-rocker racer. Others, such as Alan Boyle, opted for a different route, and built a very fast Vauxhall Viva, while Rodger Anderson built an equally quick BMW 2002. Meanwhile, in the 1 litre ranks, the Mini Coopers dominated numbers, if not always the results, as a handful of Hillman Imps challenged for the top placings.
Group 5 worked well in New Zealand, producing some incredible racing and some legendary cars. Event promoters also spotted a golden opportunity during this era, as New Zealand rules finally ensured the cars were of similar spec to those competing in other countries. And as such, a steady stream of international tin-top racers were brought to New Zealand to take on the best of the local contingent. Drivers such as Norm Beechey, Allan Moffat, Pete Geoghegan, Frank Gardner, Brian Foley, Bryan Thomson, Ron Grable, Joe Chamberlain, and numerous others, all raced their cars in New Zealand at various times during the late 1960s and early '70s, attracting huge spectator numbers, and thrusting saloon car racing into the top echelon in local motor racing.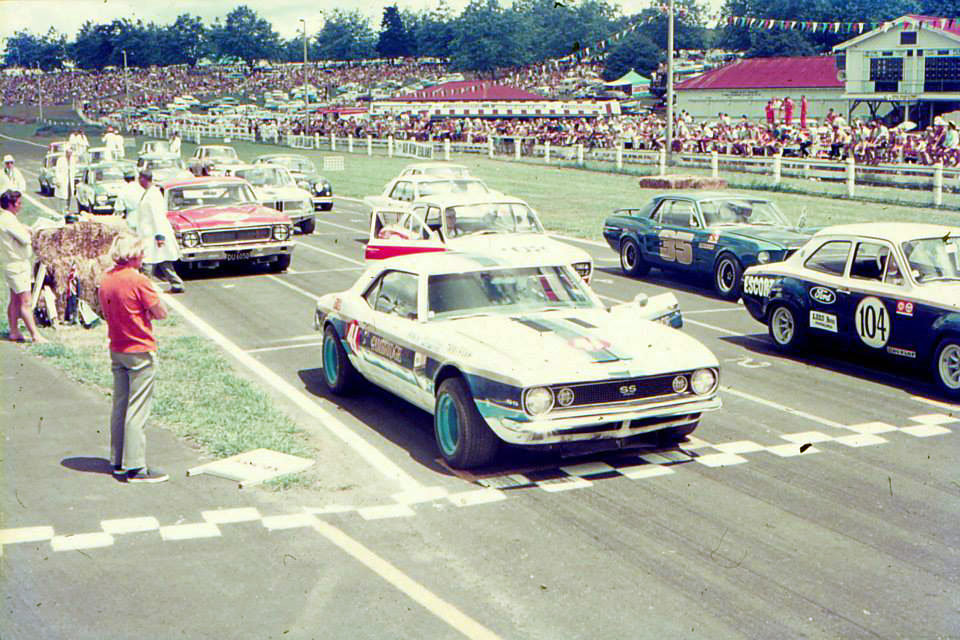 In 1973, regulations were changed for the New Zealand Saloon Car Championship. Group 5 were dropped in favour of a locally brewed set of rules called Schedule E. Schedule E, in many ways, reverted back to the old Allcomers era, where teams were offered far more freedom. Teams could now fit any production car engine into any bodyshell, and pretty soon, V8 motors were being shoe-horned into Ford Escorts, Capris, Vauxhall Victors and the like. So too, bodywork freedoms were also opened up. The 1974 season saw the continuation of the outgoing Group 5 machinery still dominate, albeit, updated slightly to take advantage of Schedule E wheel size rules, before the new breed of Schedule E cars began to take over.
Historic Muscle Cars and Historic Saloon Cars was created to celebrate the late 1960s and early 1970s era of the New Zealand Saloon Car Championship under Group 2 and Group 5 rule. Historic Muscle Cars uses its own set of unique regulations, based partially on MSNZ T&C, partially on the cars that raced in period under Group 5, but also influenced by some of the international machinery that raced in New Zealand in period. Historic Saloon Cars uses MSNZ T&C, as well as FIA Appendix K, and CAMS Historic Group Nb and Nc regulations, to ensure a more period correct and historic grid.
Historic Muscle Cars and Historic Saloon Cars was created specifically to promote enjoyable racing, with an emphasis on period correctness. There is no championship, and race results are not awarded in any way. The main focus is on car presentation, respect for other cars and drivers, and the celebration of the late 1960s and early '70s era New Zealand Saloon Car Championship.
Photos by Pat Lambert.